Circular Vibrating Screen
General Details
Circular Vibrating Screens
Circular vibrating screen, also called circular-motion vibrating screens, are widely used to classify medium to coarse-grained bulk materials (1 mm to 400 mm) for screening.
Circular Vibrating Screen has high and strong screening forces produce efficient operation with circular motion being produced by one motor or exciter which feature low noise operation of 85 dBA.
Working principle:
Circular vibrating screen operates using indirect excitation of the screen mesh. The entire screen frame is driven by unbalance unit which produce a circular vibrating motion.
Structure: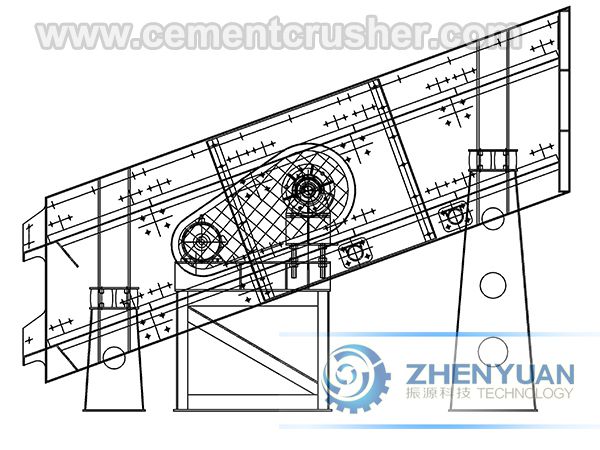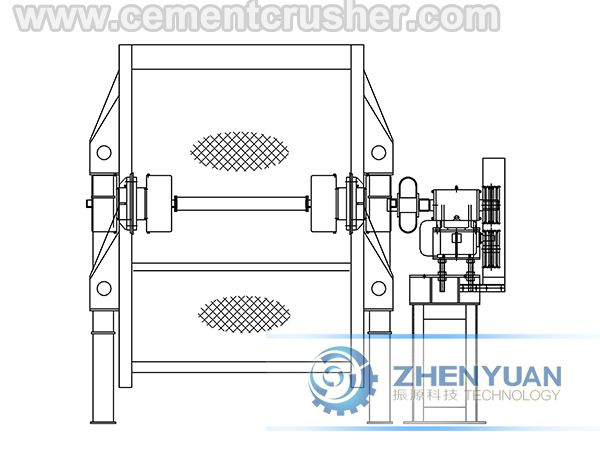 Areas of application:
Screening of rock, ore, sand, stone, salt, coal and similar bulk materials, as well as in recycling and waste disposal.
Screening of lumpy materials for quarries and the mining industry (sturdy design).
Pre-screening of bulk materials (heavy-duty design).
Features:
High capacity and efficiency can be achieved for either wet or dry screening, so suitable for outdoor working or the district with long rainy season.
From fine to large separation sizes up to approx. 400 mm
Connecting by ring-grooved rivets, hard deformation, stronger than welding.
Low Impact: Low vibration transfer to surrounding structure
High screen throughput up to 500 m3/ h, depending on size
Dust enclosures, spray pipes.
Screen surface inclination: 18°~20°
Screen Media
Your total screening solution
Zhenyuan supply a full range of screen media and consumables to complement the world-class screen machines that we manufacture.  Whether your requirements be for polyurethane, wedgewire, wire mesh or rubber, we are able to supply it.

If you have some questions about our products, please feel free to fill out the form below, and we will contact you within 24 hours. Rest assured that we won't reveal your information to anyone.
Technical Data
Model
Layers
Screening surface area   (㎡)
Screening pore size   (mm)
Feeding Grain Size   (mm)
Capacity (t/h)
Vibration Time (r/min)
Double amplitude (mm)
Motor
Dimension               L×W×H      (mm)
Model
Power   (Kw)
YA1536
1
5.4
6-50
≤200
100-200
730
8~11
Y180L-8
11
3757×2975×2419
2YA1536
2
5.4
6-50
≤200
150-250
730
8~11
Y200L-8
15
3757×2975×2419
YA1542
1
6.5
6-50
≤200
110-220
730
8~11
Y180L-8
11
3757×2975×2419
2YA1542
2
6.5
6-50
≤200
160-250
730
8~11
Y200L-8
15
3757×2975×2419
YA1836
1
6.5
6-50
≤200
150-250
730
8~11
Y180L-8
11
3757×2975×2419
2YA1836
2
6.5
6-50
≤200
200-300
730
8~11
Y200L-8
15
3757×2975×2419
YAH1836
1
6.5
30-150
≤400
250-600
730
8~11
Y180L-8
11
3757×2975×2437
2YAH1836
2
6.5
30-200
≤400
250-600
730
8~11
Y200L-8
15
3757×3020×2437
YA1842
1
7.3
6-50
≤200
220-400
730
8~11
Y200L-8
15
4331×3020×2675
2YA1842
2
7.6
6-150
≤200
280-500
730
8~11
Y200L-8
15
4331×3020×2675
YAH1842
1
7.6
6-150
≤400
250-800
730
8~11
Y200L-8
15
4331×3020×2700
2YAH1842
2
7.6
30-150
≤400
250-800
730
8~11
Y200L-8
15
4331×3020×2700
YA1848
1
8.6
30-150
≤200
150-525
730
8~11
Y200L-8
15
4904×3023×2943
2YA1848
2
8.6
6-50
≤200
150-525
730
8~11
Y200L-8
15
4904×3023×2943
YAH1848
1
8.6
6-50
≤0-150
350-1000
730
8~11
Y200L-8
15
4904×3023×2943
2YAH1848
2
8.6
30-150
≤400
350-1000
730
8~11
Y200L-8
15
4904×3023×2943
YA2148
1
10
30-150
≤210
180-630
730
8~11
Y200L-8
15
4904×3023×2943
2YA2148
2
10
6-50
≤210
180-630
730
8~11
Y225M-8
15
4904×3023×2943
YAH2148
1
10
6-50
≤400
270-1200
730
8~11
Y225M-8
15
4945×3423×3501
2YAH2148
2
10
13-200
≤400
270-1200
730
8~11
Y225M-8
22
6092×3463×3674
YA2160
1
12.6
30-150
≤200
230-800
730
8~11
Y225M-8
22
6092×3463×3674
2YA2160
2
12.6
3-80
≤200
230-800
730
8~11
Y225M-8
22
6116×3619×3849
3YA2160
3
12.6
6-50
≤200
350-1500
730
8~11
Y250M-8
22
73553647×4420
YAH2160
1
12.6
6-50
≤400
350-1500
730
8~11
Y250M-8
22
6116×3619×3849
2YAH2160
2
12.6
30-150
≤400
200-700
730
8~11
Y250M-8
30
6116×3619×3849
YA2448
1
11.5
6-50
≤200
310-1300
730
8~11
Y225M-8
30
4945×3729×3473
YAH2448
1
11.5
6-50
≤400
310-1300
730
8~11
Y250M-8
30
4969×3925×3638
2YAH2448
2
11.5
30-150
≤400
260-840
730
8~11
Y250M-8
22
4969×3925×3638
YA2460
1
14.4
30-150
≤200
260-840
730
8~11
Y250M-8
30
6091×3925×3850
2YA2460
2
14.4
6-50
≤200
260-840
730
8~11
Y250M-8
30
6091×3925×3850
3YA2460
3
14.4
6-50
≤200
400-1700
730
8~11
Y250M-8
30
6088×3916×4478
YAH2460
1
14.4
30-150
≤400
400-1700
730
8~11
Y250M-8
30
6091×3825×3850
2YAH2460
2
14.4
30-150
≤400
400-1700
730
8~11
Y250M-8
30
6091×3825×3850
Order Enquiry
Contact form description text