General Details
Hammer Crusher  / PCH Ring Hammer Crusher
–from Zhenyuan Technology, We since 1964!
Main Function:
Material Crushing and Breaking
Structure: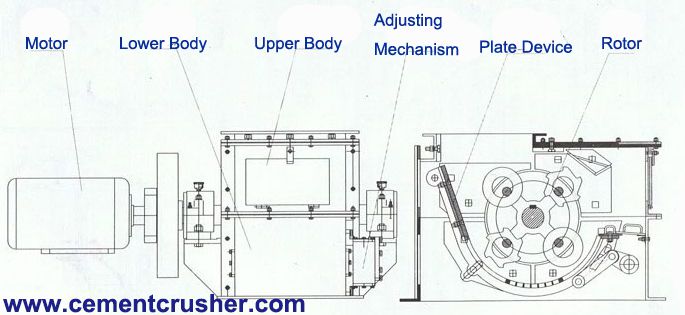 Widely Used In:
Medium hard grade and crispy material (Limestone, Coal, Gangue, Coke, Shale, Red Sandstone, Iron Ore& Gold…)
When the highest pressure is 100kpa, it can also be used in Concrete, Generate Electricity, Building Material and Components fertilizer.
Our Ring Hammer Crusher makes the crushing easy:
1) Compression Feeder helps constant feed and eliminates bulky item feed trouble.
2) Stable Horizontal Type Shedder (Heavy Duty Construction)
3) Ring-Type Hammer is available for every sort of wastes.
4) Long Hammer-Life
5) Low Horsepower
6) Easy Maintenance by opening upper frame
7) Product Size-control by grate bar clearance
8) Low Fire and Explosion by air blow system

If you have some questions about our products, please feel free to fill out the form below, and we will contact you within 24 hours. Rest assured that we won't reveal your information to anyone.
Technical Data
Ring Hammer Crusher Technical Data
Model
Max Feed Size(mm)
Discharge Size(mm)
Capacity(t/h)
Speed of motor (r/min)
MotorModel
MotorPower(KW)
Dimension(mm)
L×W×H
PCH0402
≤200
≤30
8-12
970
Y132M2-6
5.5
810×890×560
PCH0404
≤200
≤30
16-25
970
Y160L-6
11
980×890×570
PCH0604
≤200
≤30
16-26
970
Y180L-6
15
1050×1270×800
PCH0606
≤200
≤30
16-27
980
Y225M-6
30
1350×1270×180
PCH0808
≤200
≤30
16-28
740
Y280M-8
45
1750×1620×1080
PCH1010
≤200
≤30
16-29
740
Y315M2-8
90
2100×2000×1350
PCH1016
≤300
≤30
16-30
740
JS-128-8
155
2700×2000×1350
PCH1216
≤350
≤30
16-31
740
Y450-8
355
4965×2500×1600
PCH1322
≤400
≤30
16-32
595
Y450L-8
400
6333×3295×2505
More Pictures