High Effieicncy Fine Crusher
General Details
Fine Crusher
High efficiency fine crusher is designed by Zhenyuan Technology engineers based on introducing advanced technology on this field and combining with different working conditions of international cement industry, mining, beneficiation, building material and so on. By taking the advantages of hammer crusher and impact crusher, this machine can highly improve working efficiency and reduce energy consumption. High-efficiency fine crusher has significant advantage in the filed of crushing soft material features reliable operation, simple structure, convenient maintenance, high capacity, long service life.
Structure: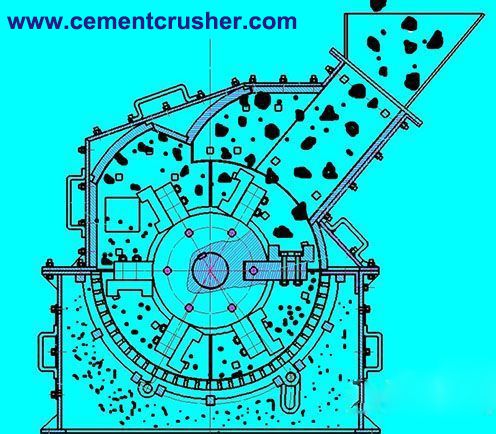 Application:
It is widely used in granite, basalt, limestone, river gravel, cement clinker, quartz, iron ore, bauxite, etc. It is also used in road, railway, water conservancy, airport, construction, cement, refractoriness, metallurgy, etc.
Feature:
Big infeed size, from 120mm~200mm
Fine outfeed size; less than 5mm product size percentage can be 90%.
Aggregate shape uniform, big capacity, long plate hammer working life.
Low motor power, change third crushing to secondary crushing.
Work simplification, simple structure, easy to maintenance, running smooth.

If you have some questions about our products, please feel free to fill out the form below, and we will contact you within 24 hours. Rest assured that we won't reveal your information to anyone.
Technical Data
Fine Crusher:
Model
Feeding Size   (mm)
Feeding Open Size (mm)
Adjustable Size of Discharge Opening(mm)
Capacity (t/h)
Output Size                         (mm)
Motor Power (KW)
PXJ800Х400
<120
400Х185
5-20
20-45
<5
37-45
PXJ800Х600
<180
500Х250
5-20
35-55
<5
45-55
PXJ800Х800
<180
550Х330
5-20
35-65
<5
45-55
PXJ1010Х1010
<180
1000Х350
5-20
45-75
<5
55-75
PXJ1200Х1000
<180
1200Х400
5-20
70-110
<5
90-110
PXJ1200Х1200
<180
1200Х450
5-20
90-120
<5
110-132
PXJ1400Х1400
<190
1500Х500
5-20
100-150
<5
160
PXJ1600Х1600
<190
1600Х550
5-20
170-250
<5
250
PXJ1800Х1800
<190
1800Х800
5-20
250-310
<5
315
More Pictures