Multicylinder Hydraulic Cone Crusher
General Details
Multicylinder Hydraulic Cone Crusher
Multicylinder hydraulic cone crusher integrated crushing speed, stroke and crushing chamber ideally, not only improving the capacity and quality, but also expanding the range of applications, from limestone to iron ore, roadbed stone to manufactured sand and small mobile crushing station. HPS series cone crusher shows the excellent crushing capacity in secondary crushing and fine crushing from rock with high hardness to conventional rock.
Multicylinder hydraulic cone crusher structure: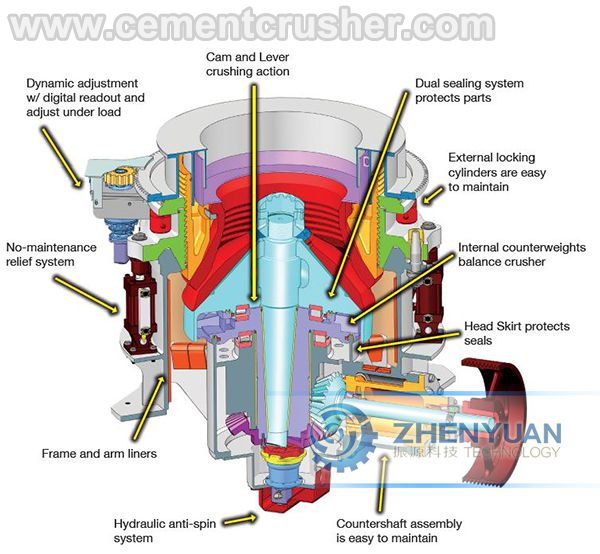 Application:
Multicylinder hydraulic cone crusher is applied to cement mill, mining, building construction, road &bridge construction, railway construction and metallurgy and some other industries. Materials like iron ore, granite, limestone, quartzite, sandstone, cobblestone and some others are easily crushed by cone crusher.
Advantages:
1. Upgraded structure and high efficiency.
2. Laminated crushing brings good product shape.
3. Optimized Lining Plate
4. Hydraulic motor for adjusting the discharge opening.
5. Hydraulic Insurance and Automatic Clearing
6. Multiple Seal Protection Device
7. Integrated Hydraulic Lubricating System
8. Unique Bearing Design

If you have some questions about our products, please feel free to fill out the form below, and we will contact you within 24 hours. Rest assured that we won't reveal your information to anyone.
Technical Data
Multicylinder Hydraulic Cone Crusher Techical Data
Model
Cavity Type
Standard Type
Short Type
Power
(KW)
Capacity
(t/h)
Inlet Size (mm)
Min. Outlet Size (mm)
Inlet Size (mm)
Min. Outlet Size (mm)
HPX 200
Extra Coarse
132-200
90-250
Coarse
185
19
76
10
Medium
125
17
54
6
Fine
95
13
23
6
Extra Fine
10
5
HPX 300
Extra Coarse
230
25
180-250
115-440
Coarse
210
20
75
10
Medium
150
15
50
8
Fine
105
10
20
6
Extra Fine
20
6
HPX 400
Extra Coarse
295
30
280-355
140-630
Coarse
250
25
90
10
Medium
195
20
50
8
Fine
110
14
40
6
Extra Fine
30
6
HPX 500
Extra Coarse
330
30
355-450
175-790
Coarse
285
25
90
13
Medium
200
20
55
10
Fine
133
16
40
8
Extra Fine
35
6
HPX 800
Extra Coarse
353
32
550-630
260-1200
Coarse
297
32
155
13
Medium
267
25
92
10
Fine
219
16
33
6
Extra Fine
More Pictures