General Details
Impact Crusher
The impact crusher is general used as primary and secondary crusher. Zhenyuan impact crusher can dealing the material with the side length below 500mm and the compressive strength no more than 250 MPa. Impact crusher can be used for processing quarried stone and a variety of mineral, as well as recycling, construction material and more.
Zhenyuan impact crusher is installed as stationary, semi-mobile or mobile crushing plants with plant capacities of more than 4000 t/h.
Structure: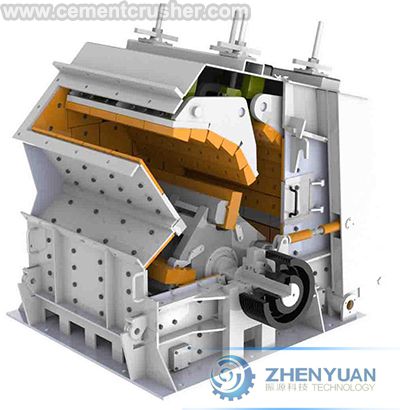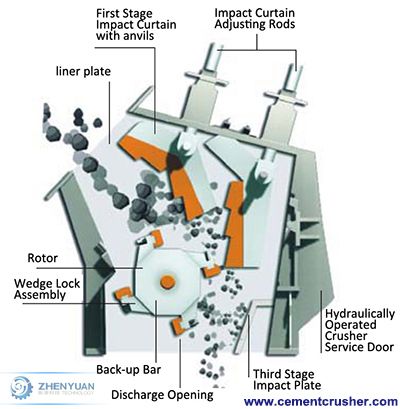 Application:
All kinds of ore, mineral, metal, rock, stone, the highest compressive strength of material is no more than 250 Mpa.
Widely used in the industries: Aggregate, Coal, Energy & Biomass, Mineral & Mining, Brick, Clay & Ceramics, Demolition, Metallurgy, Construction, Environmental, Railway, Sand Making, Water Conservancy, etc.
Features:
Overload and iron-removal protection system protects machine from damage.
Suitable for a variety of feed materials including recycling, demolition and quarry applications
Particle size adjustment function.
Two lid ways of hydraulic pressure and pull rod lid reduce labor intensity.
Both sides of plate hammer can be used, lower the cost.
Two or three cavities design can meet different kinds of requirements from clients.
Keyless connection makes crushing more stable.
Working Principle:
The impact crusher uses impact energy to crusher the raw material. When material comes to zone of action of hammer plate, material will be pushed to impact device to be crushed under the force of impact, then material will bounce back to zone of action to be re-crushed, this process would not stop until the final products become to required size, , the material will be discharged from bottom of machine. Adjusting the gap between impact rack and rotor rack could change the output size and shape of material.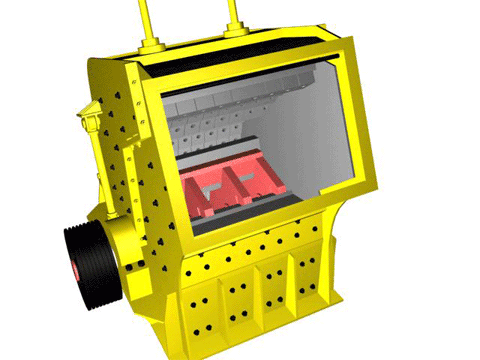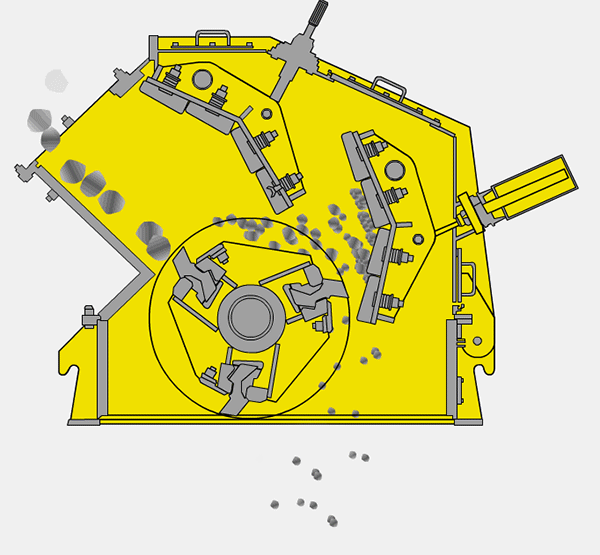 If you have some questions about our products, please feel free to fill out the form below, and we will contact you within 24 hours. Rest assured that we won't reveal your information to anyone.
Technical Data
Impact Crusher:
Model
Specification
Feeding Open Size (mm)
Max.Feeding Size           (mm)
Capacity (t/h)
Motor Model
Motor Power (KW)
Dimension   (mm)
Weight   (t)
PF-1007
Ф1000Х700
400Х730
300
35-50
Y250M-6
37
1800Х1600Х1800
9.5
PF-1010
Ф1000Х1050
400Х1080
350
50-80
Y315S-6
75
2340Х2007Х2500
14
PF-1210
Ф1250Х1050
400Х1080
350
70-120
Y315L1-6
110
2582Х2053Х2809
17
PF-1212
Ф1250Х1200
400Х1250
350
70-140
Y315L2-6
132
2582Х2403Х2809
17.5
PF-1214
Ф1250Х1400
400Х1430
350
80-160
Y315L2-6
132
2582Х2403Х2809
22
PF-1315
Ф1300Х1500
680Х1520
350
90-220
Y2-335M2-6
200
2930Х2761Х3053
26
PF-1320
Ф1300Х2000
680Х1570
350
110-350
Y2-335M2-6
280
3340Х2950Х3000
28
Three-chamber Impact Crusher:
Model
Specification
Feeding Open Size (mm)
Max.Feeding Size           (mm)
Capacity (t/h)
Motor Model
Motor Power (KW)
Dimension   (mm)
Weight   (t)
PFV-1007
Ф1000Х700
400Х730
300
25-45
Y250M-6
55
1800Х1600Х1800
10.5
PFV-1010
Ф1000Х1050
400Х1080
350
35-60
Y315S-6
75
2340Х2007Х2500
14.8
PFV-1210
Ф1250Х1050
400Х1080
350
45-100
Y315L1-6
110
2582Х2053Х2809
18
PFV-1214
Ф1250Х1400
400Х1430
350
60-140
Y315L2-6
132
2582Х2403Х2809
23.5
PFV-1315
Ф1300Х1500
565Х1600
350
70-180
Y2-335M2-6
200
2996Х2701Х2472
28
PFV-1320
Ф1300Х2000
496Х2100
350
110-300
Y2-335M2-6
280
3308Х3205Х2613
30
More Pictures