Single Cylinder Hydraulic Cone Crusher
General Details
Summary:
The single cylinder hydraulic cone crusher is a high efficiency cone crusher designed by introducing American technology and combining the metal nature on the world market. It is widely used in metal mine, metallurgical, chemistry, construction, cement, sand and stone production industry. It applies to the primary and secondary crushing of various of mines and rocks, the Protodyakonov hardness of which is f=5-16, such as iron ore, nonferrous ore, granite, limestone, quartzite ore, sandstone, pebble and so on.
Working:
The single cylinder hydraulic cone crusher is mainly composed of upper bracket, middle bracket, bottom bracket, movable cone, eccentric sleeve, transmission and hydraulic cylinder. The whole working process of this machine is that motor drives rotation of horizontal axis, horizontal axis drives the rotation of eccentric sleeve through the spiral bevel gear, and then eccentric sleeve would drive the rotary oscillation of movable cone so as to realize the continuous extrusion.
The adjustment of hydraulic cylinder at the bottom of movable cone can drive main shaft thus driving movable cone move up and down to easily adjust the space of movable cone and the lining plate of fixed cone, then the product size will be controlled. Hydraulic cylinder also has the function of overload protection. When materials that cannot be crushed (such as iron) enter into crushing chamber, the accumulator will be triggered, then the hydraulic cylinder will drop movable cone to release the iron and recover normal crushing automatically, which can protect the crusher perfectly.
Structure: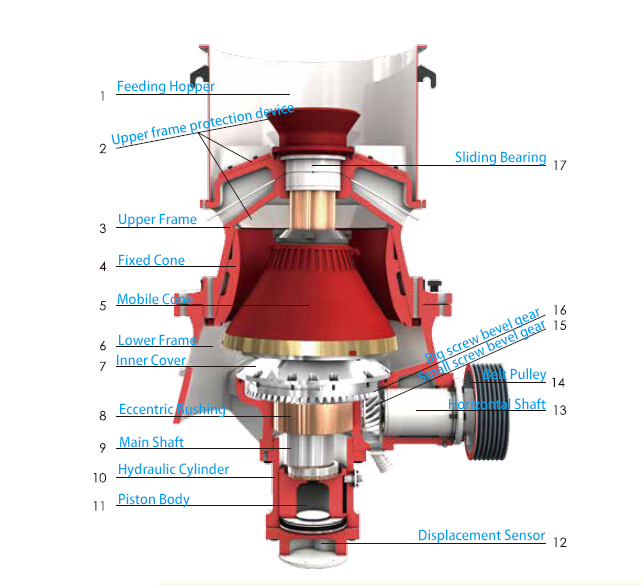 Features:
1.High efficiency:
The hydraulic cone crusher has support on both ends of the spindle, which is able to bear greater crushing force and greater stroke, coupled with the special shape of crushing chamber adapted to laminated principle, the machine has higher crushing efficiency.
2.Large production capacity:
The hydraulic cone crusher has the perfect combination of design with crush stroke, crushing speed and crushing chamber shape, which make the machine's moving cone big end diameter in the same circumstances, the output is 35% ~ 60% higher than the old spring cone crusher.
3.High quality stones:
The hydraulic cone crusher adopts special crushing chamber and laminated crushing principle, resulting in inter-particle crushing effect, so that the finished product significantly increased the proportion of the cube, flake stone needles reduced and grain is more uniform.
4.Just replacing the fixed cone can achieve a variety of cavity shapes for fine crushing.
5.Double insurance controlled hydraulic and lubrication system can ensure the machine's overload protection and good bearing lubrication.
6.Easy maintenance:
The structure of cone crusher is simple and compact.It has the features of stable performance, not easy to fault and convenient maintenance.

If you have some questions about our products, please feel free to fill out the form below, and we will contact you within 24 hours. Rest assured that we won't reveal your information to anyone.
Technical Data
GP100S
Capacity (t/h)
Discharge Opening
20mm
25mm
30mm
35mm
40mm
45mm
50mm
stroke
16mm
80~90
105~115
120~130
135~145
145~165
155~175
20mm
120~130
145~155
160~180
170~200
185~215
25mm
185~195
200~220
210~230
GP200S
Capacity (t/h)
Discharge Opening
20mm
25mm
30mm
35mm
40mm
45mm
50mm
stroke
18mm
110~140
140~170
160~190
180~210
200~230
230~260
25mm
170~220
190~240
210~260
230~280
32mm
230~280
270~320
280~350
GP300S
Capacity (t/h)
Discharge Opening
20mm
25mm
30mm
35mm
40mm
45mm
50mm
stroke
16mm
170~190
170~210
190~230
210~255
235~275
255~295
20mm
220~270
255~315
290~345
320~350
330~350
25mm
360~400
380~420
400~440
40mm
450~500
480~530
GP500S
Capacity (t/h)
Discharge Opening
45mm
50mm
55mm
60mm
65mm
70mm
75mm
stroke
16mm
300~350
325~375
375~425
400~450
425~475
450~500
500~550
20mm
500~550
550~600
600~650
650~700
700~750
750~800
25mm
650~700
700~750
750~800
825~875
900~950
40mm
900~950
975~1050