General Details
Cone Crusher
WKS Series High Efficiency Cone crusher is the introduction of the latest German technology and the development of high-energy cone crusher with the world's advanced level.The cone crusher is obviously different from the traditional crusher in structure design,and focused main advantages of each type cone crusher known so far.
This series cone crusher crushers are suitable for crushing varies of medium-hard and above medium-hard ores and rocks.This crusher had the advantages of reliable construction,high productivity,easy adjustment and less cost in operation.The spring insurance system adopts on an overload protection system that allows materials to pass through the crushing chamber without damage.There are grease and water for sealing and make separation of stone powder and lubricating oil,safe and reliable.The type of crushing chamber depends on the feeding size of materials,standard types apply to medium crushing,medium types apply to fine crushing and the short-head types apply to medium and fine crushing.
Working: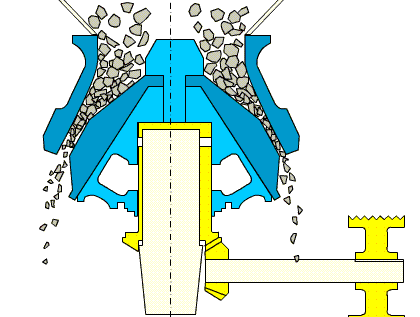 Structure: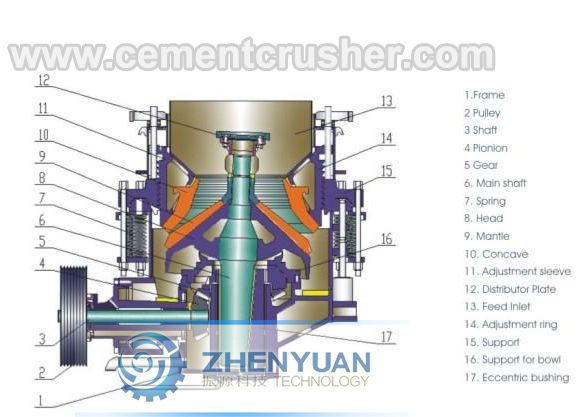 PERFORMANCE FEATURE:
High capacity
Good particle shape of final product
Good iron passing protection system
Easy to clear the cavity,downtime will be reduced
Stable performanc

If you have some questions about our products, please feel free to fill out the form below, and we will contact you within 24 hours. Rest assured that we won't reveal your information to anyone.
Technical Data
WKS Cone Crusher(Standard)
Model
WKS75-B
WKS160-B
WKS250-B
WKS350-B
Diameter
900mm
1275mm
1650mm
2134mm
Cavity Type
Narrow
Medium
Wide
Narrow
Medium
Wide
Narrow
Medium
Wide
Narrow
Medium
Wide
Smallest Size of Discharge Opening(mm)
9
13
25
13
16
25
16
22
38
19
25
38
Feeding Open Size(mm)
Closed Side Setting(CSS)
83
159
163
109
188
238
188
213
331
253
303
425
Open Side Setting(OSS)
102
175
178
137
210
259
209
241
368
278
334
460
Capacity(t/h)
45-91
50-120
59-163
109-181
132-253
172-349
181-327
258-417
299-635
381-726
608-998
789-1270
Weight(t)
15
26.5
43.5
67.3
Motor Power(KW)
75
160
250
350
Dimension(mm)
2865Х2000Х2190
3300Х2500Х2940
4105Х3280Х3505
5110Х4270Х4350
WKS Cone Crusher(Short Head)
Model
WKS75-D
WKS160-D
WKS250-D
WKS350-D
Diameter
914mm
1295mm
1676mm
2134mm
Cavity Type
Narrow
Medium
Wide
Narrow
Medium
Wide
Narrow
Medium
Wide
Narrow
Medium
Wide
Smallest Size of Discharge Opening(mm)
3
3
6
3
6
16
5
6
13
5
10
16
Feeding Open Size(mm)
Closed Side Setting(CSS)
13
33
51
19
54
98
35
54
117
51
95
152
Open Side Setting(OSS)
40
60
76
64
89
133
70
89
133
105
133
203
Capacity(t/h)
27-90
30-100
31-110
36-163
82-163
109-227
90-209
136-281
190-336
190-408
354-508
454-599
Weight(t)
15
26.5
43.5
67.3
Motor Power(KW)
75
160
250
350
Dimension(mm)
2865Х2000Х2190
3300Х2500Х2940
4105Х3280Х3505
5110Х4270Х4350
More Pictures