General Details
Jaw Crusher
Jaw crushers are often used as primary crushers and are perhaps the most popular crusher worldwide. These compressive crushers are suitable for most any type of material.
Zhenyuan Technology offers complete jaw and cone crusher systems designed specifically to meet your crushing needs.  We have a wide range of cone crusher and jaw crusher models to handle various type of aggregate product and process capacities. Jaw crusher sizes are available from 100*200 to 1100*1200.  Please refer to the jaw crusher chart for more details.  Contact a Zhenyuan engineer today for your jaw crusher inquiries!
Jaw Crusher Working Principle:
In this type of crusher, reduction takes place between a stationary jaw plate and a moving jaw plate. The moving jaw plate is mounted on the pitman, which is given a reciprocating motion. Crushing takes place when the pitman moves toward the stationary jaw, compressing the material.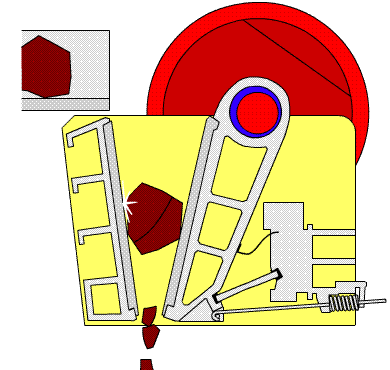 Structure:

Jaw Crusher Application:
All kinds of ore, mineral, metal, rock, stone, the highest compressive strength of material is no more than 320 Mpa.
Widely used in the industries: Mining, Aggregate, Demolition, Metallurgy, Construction, Environmental, Railway, Sand Making, Water Conservancy, etc.
Jaw Crusher Features:
Big infeed size, high reduction ratio, high capacity.
Low rotor speed, rotor runs smoothly.
Pulley with keyless connection, easy dismounting.
Overload and iron-removal protection system can protect jaw head from damage.
Unique jaw head non-return function can protect machine from secondary damage.
Unique sealing structure can restraint dust, protect bearing.
Jaw head discharge gate hydraulic adjustment function can lower the labor intensity and increase efficiency of labor.

If you have some questions about our products, please feel free to fill out the form below, and we will contact you within 24 hours. Rest assured that we won't reveal your information to anyone.
Technical Data
| | | | | | | | | |
| --- | --- | --- | --- | --- | --- | --- | --- | --- |
| Model | Feeding Open Size (mm) | Max.Feeding Size (mm) | Adjustable Size of Discharge Opening(mm) | Capacity (t/h) | Motor Poles | Motor Power (KW) | Dimension   (mm) | Weight   (t) |
| PE-150Х250 | 150Х250 | 125 | 10-40 | 1-3 | 4 | 5.5 | 670Х820Х760 | 0.81 |
| PE-150Х750 | 150Х750 | 125 | 10-40 | 5-16 | 4 | 15 | 1050Х1490Х1055 | 3.8 |
| PE-250Х400 | 250Х400 | 210 | 20-60 | 5-20 | 4 | 15 | 1160Х1300Х1240 | 2.8 |
| PE-400Х600 | 400Х600 | 350 | 40-100 | 16-65 | 6 | 30 | 1480Х1710Х1646 | 7 |
| PE-500Х750 | 500Х750 | 425 | 50-100 | 45-100 | 6 | 55 | 1800Х1796Х1940 | 12 |
| PE-600Х900 | 600Х900 | 500 | 65-140 | 60-160 | 6 | 75 | 2235Х2210Х2380 | 17 |
| PE-750Х1060 | 750Х1060 | 630 | 80-160 | 90-320 | 8 | 110 | 2430Х2302Х3110 | 29 |
| PE-800Х1060 | 800Х1060 | 640 | 80-200 | 110-350 | 8 | 110 | 2530Х2310Х3110 | 30 |
| PE-900Х1200 | 900Х1200 | 750 | 95-210 | 140-450 | 8 | 130 | 3789Х2826Х3025 | 50 |
| PE-1000Х1200 | 1000Х1200 | 850 | 110-235 | 160-550 | 8 | 160 | 3889Х2826Х3025 | 57 |
| PE-1200Х1500 | 1200Х1500 | 1020 | 150-300 | 400-800 | 8 | 220 | 4590Х3342Х3553 | 100.9 |
| PEX-250Х750 | 250Х750 | 210 | 25-60 | 15-30 | 6 | 22 | 1750Х1500Х1420 | 5 |
| PEX-250Х1000 | 250Х1000 | 210 | 25-60 | 16-52 | 6 | 30 | 1940Х1650Х1450 | 7 |
| PEX-250Х1200 | 250Х1200 | 210 | 25-60 | 20-65 | 6 | 37 | 1940Х1850Х1450 | 7.7 |
| PEX-300Х1300 | 300Х1300 | 250 | 25-70 | 25-90 | 6 | 55 | 2285Х2000Х1720 | 11 |
More Picture