General Details
Teeth Roller Crusher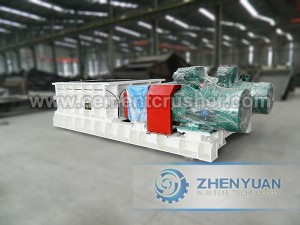 Applications:
Zhenyuan teeth roller crusher mainly crushes raw coal mine from opencast working, coal preparation plant and thermal power plant, etc. 2PLF Series teeth roller crusher is composed of motor, safe coupling, gear reducer, gear coupling, frame, tooth roller and tooth roller cover.
Structure Drawing: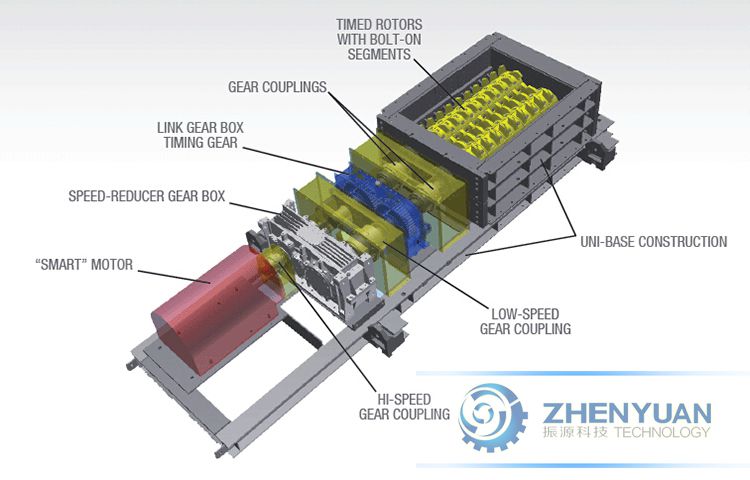 Features:
Strong crusher power and high crushing ratio, without over-crushed phenomenon
Crushing grades have coarse and medium crushing
High strength alloy steel shafts
Replaceable wear part design, crusher teeth can be replaced quickly
Unique tooth designs to allow maximum utilization of the materials
Grease lubricated bearings usually fed by automated system

If you have some questions about our products, please feel free to fill out the form below, and we will contact you within 24 hours. Rest assured that we won't reveal your information to anyone.
Technical Data
Teeth Roller Crusher:
140 Series Coal Sizer for Coarse Crushing
Model&Specification
2PLF-140/250
2PLF-140/300
2PLF-140/350
2PLF-140/400
Input Size(mm)
≤1600
≤1600
≤1600
≤1600
Output Size(mm)
≤400
≤400
≤400
≤400
Capacity(t/h)
≤6000
≤7000
≤8500
≤10000
120 Series Coal Sizer for Coarse Crushing
 Model&Specification
2PLF-120/150
2PLF-120/200
2PLF-120/250
2PLF-120/300
Input Size(mm)
≤1500
≤1500
≤1500
≤1500
Output Size(mm)
≤300
≤300
≤300
≤300
Capacity(t/h)
≤3000
≤4000
≤5000
≤6000
100 Series Coal Sizer for Coarse Crushing
Model&Specification
2PLF-100/150
2PLF-100/200
2PLF-100/250
2PLF-100/300
Input Size(mm)
≤1200
≤1200
≤1200
 ≤1200
Output Size(mm)
≤300
≤300
≤300
 ≤300
Capacity(t/h)
≤2000
≤3000
≤4000
 ≤5000
80 Series Coal Sizer for Medium Crushing
Model&Specification
2PLF-80/150
2PLF-80/200
2PLF-80/250
2PLF-80/300
Input Size(mm)
≤300
≤300
≤300
≤300
Output Size(mm)
50-150
50-150
50-150
50-150
Capacity(t/h)
300-700
400-1000
600-1200
800-1500